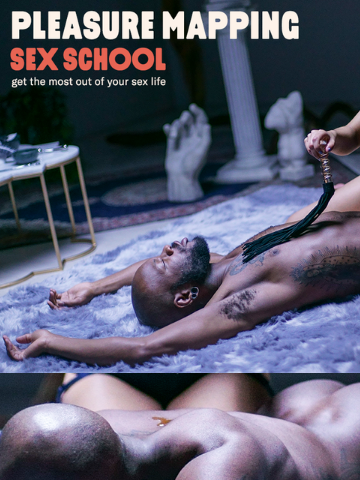 Review of PinkLabel.tv's Pleasure Mapping (Bishop's Experience)

Overview: This isn't porn, per se, but an erotic instructional video about the concept of pleasure mapping, which is described in the video as "mindfully exploring a body through touch." It can be a therapeutic exercise, but it can also be about pleasure. But verbal communication is the key to pleasure mapping. There will be non-verbal communication, but the describing of sensations and desires is what defines pleasure mapping.
This video features Bishop Black and Lina Bembe. Bishop is receiving, expressing desires, and explaining what he is feeling (both physically and emotionally). Lina asks Bishop what he would like to feel, how he would like it done, and about his emotional state.
The video has closed captioning and is almost 12 minutes long.

Dave: This is my first time hearing about pleasure mapping. I assumed the video was more educational with some sex mixed in, but the word "mapping" implied to me that the activities in the video would be more structured and that wasn't the case. Because the purpose of the activity was for not only Bishop to experience physical pleasure, but to also practice communication. This isn't a bad thing about the video, but that's the one part that made me a bit uncomfortable - which is my issue. There was discussion and questions about everything that was happening between Bishop and Lina - where her hands were, what she was doing with them, what did he want next, etc.
At the suggestion of Jiz Lee, Pink Label's Marketing Director, I did watch the prequel to this which is just called Pleasure Mapping which features more explanation of what this is. I would highly recommend watching this (about 20 minutes long) first. It gives more explanation of what the goal of pleasure mapping is - which put Bishop's Experience into better context.
Both videos together (about a half-hour) is a really good demonstration of this concept of PM. Even if communicating about every sensation and emotion you're feeling through out a session would make you self-conscious, but coming in with curiosity will at least help you start to consider talking more with a partner about your needs and desires. The video(s) can be a helpful tool in that way.
The video features a couple of hotties getting naked and doing stuff to each other. There's nothing penetrative and no one cums on camera - but that's not the goal here. Whether you're with a partner right now or not, you'll dig this and it's worth your while. Check both videos out.
To see Pleasure Mapping and Bishop's Experience, go to https://www.pinklabel.tv/on-demand/?affiliate=2622606.